While the monohull with its giant hearts is warm and safe in the Lorient shipyard, dressing its wounds [after delamination of the bottom of the hull during the Route du Rhum on route to Guadeloupe] and adorning itself with sparkling new foils, Sam Davis is looking steadfastly ahead, which means choosing a partner for her 6th Transat Jacques Vabre, the double-handed transatlantic race that will depart Le Havre on 27 October next.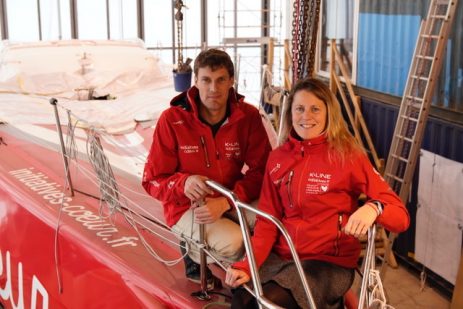 Many discussions were held with candidates eager to join the most Breton of British skippers on the famous coffee route. Sam finally settled on the winner of the Route du Rhum in the Imoca class.
Paul Meilhat, who only joined the ocean racing scene in 2011, is one of those talented, determined skippers who always seem to come out on top: winner of the Transat AG2R in 2014, second in the Transat Jacques Vabre 2017, winner of the Rolex Fastnet Race and Défi Azimut in 2017, and winner of the Bermudes 1000 Race and Monaco Globe Series in 2018. The Route du Rhum, at the age of 36, was his first major solo victory aboard an old generation monohull.
A fervent believer in the humanist values of sharing and passing on knowledge and know-how, Paul has been committed to helping building apprentices for many years. "These youngsters are enthusiastic and interested in everything, even though they are part of a system which is rich in potential but highly undervalued." For Paul, the purpose and meaning of his profession must go beyond mere sporting performance. Sam feels the same way. Since she took over from Tanguy de Lamotte in 2017, she has been sailing with a purpose. The Initiatives-Cœur project uses a simple social media mechanism, "1 click = 1 heart", to collect funds to save children with heart disease via the Mécénat Chirurgie Cardiaque charity. Each time the Initiatives-Cœur FaceBook page (the largest community in the sailing world) has a new fan, the boat's sponsors (Initiatives and K-LINE) donate 1 euro to the charity organisation. VINCI Energies' employees also contribute by organising other fund-raising events. Since 2009, 176 children have been given a second chance in life. Paul Meilhat, who will be a father for the second time in June, is highly sympathetic to the cause and proud of making a personal contribution.
A winning project!
The skipper designated by Sam as being a most formidable competitor on last season's IMOCA circuit last season is joining her for the next stage of the adventure.  After being neck and neck so often, particularly in the Bermuda 1000 Race in which they were only 12 minutes apart at the finish line, they will now be in the same boat! The duo will work together, with a common strategy, sharing their tactics and gelling their strong points over a common goal: reach the podium!
They may have high sporting ambitions, but they also have two major goals in mind for their respective projects: qualifying for the Vendée Globe 2020 for one and signing up with a new sponsor for the other.

When this highly experienced yachtswoman takes the helm of the Initiatives-Coeur foiler in 2020, it will be her 3rd Everest of the Seas. That is what the team would like for Paul as well!
Paul Meilhat – "I want to be part of this winning project and sail with a leading sportswoman."
The Initiatives-Cœur team is a dynamic, well-knit team. I want to be part of it and contribute to the technological development of its monohull, which is my sistership. It will be my first mixed race. I am delighted to have the opportunity to sail with a woman. It is something very meaningful. Ocean racing still has a long way to go in this respect. Sam and I regularly crossed paths at the Pôle [the training centre at Port La Forêt]. It is also because of this training centre that we share the same work ethic and the same determination to progress. I can't wait for training to begin [the Initiatives-Coeur will be relaunched in mid-April]!
Sam Davies: "I wanted a co-skipper with the will to win."
I competed in the last two Transat Jacques Vabre races with Tanguy [Lamotte]. I'm going to have to get used to a new crew member (laughter!).
Paul is an accomplished sportsman and a talented skipper who sails fast and efficiently. I'm almost relieved to know he's not on the other side (laughter!)
More than anything, my sights are on the 2020 Vendée Globe. The entire team is focused on this major event. It is important for me to work with someone who has experience in the Vendée Globe.
The fact that Paul is sympathetic to the cause championed by my boat – a sports project that also aims at saving lives – obviously influenced my final choice. It was essential that the co-skipper should also support this side of the project.